I happened to be in Harvey Nichols fashion show last month which took place in Manchester Cathedral. And decided to write a review...this shows my evil/naughty side in terms of fashion...if I don't like it, I slash it - simply and honestly!!! Cant imagine any industry magazines publishing it, but hey that's what the internet is for, and that's where the idea of the blog came from- to express myself without boundaries and to publish what I think and what in my opinion interests the audience I want to attract. And pardon my mistakes, I am not English by nature. Enjoy, comment, love it, hate it or ignore it.
*No pictures were allowed to be taken, thus I couldn't include the items I DID like*
HARVEY NICHOLS MANCHESTER AUTUMN/WINTER 2010 CATWALK SHOW
Where shall we start? There you go…
Location: Manchester Cathedral.
Event: Harvey Nichols fashion show, Wednesday, 22nd September 2010.
Audience: middle aged slightly snobbish people (and so called z listers, or local celebrities aka Coronation street).
What everyone was wearing: something so into your eyes over the top (reference to the 50's something lady in her over the knee boots and cut out top, excuse me, LADY, but aren't you slightly too mature to pull this off..?).
I wasn't too sure where was the real fashion show – on the catwalk or in the audience. Still, impression was more or less the same: all I have seen was fashion, which lacked style and sophistication, but was fuelled with brands exposure, "I am so in love with laboutins" obsession. However, there were some really good outfit choices between the audience and they were the ones what were very understated, simplistic and laid-back than overdone.
So the light goes on, the music starts, the cathedral looks amazing yet the catwalk is too close ( I didn't get into the front row, but the second isn't too bad either). First thing I m not too keen on is the lightning- way too bright, causing too much unnecessary exposure: at the end of the day, fashion is about creating a dream that will enhance me and make me spend my hard (or easily) earned money, and by exposing every single pore on models face and every little crease on the garment my dream slightly turns into a nightmare. I m awake, not dreaming, not yet.
The show is opened with The new simplicity look. My attention grabs the last look featuring Celine drop waist dress , Chloe tan tote bag and Ysl pumps. Oh and I loved – Camilla Skovgaard ankle sandals. Amazing, gorgeous pieces yet the stylist didn't do the best job putting the looks together.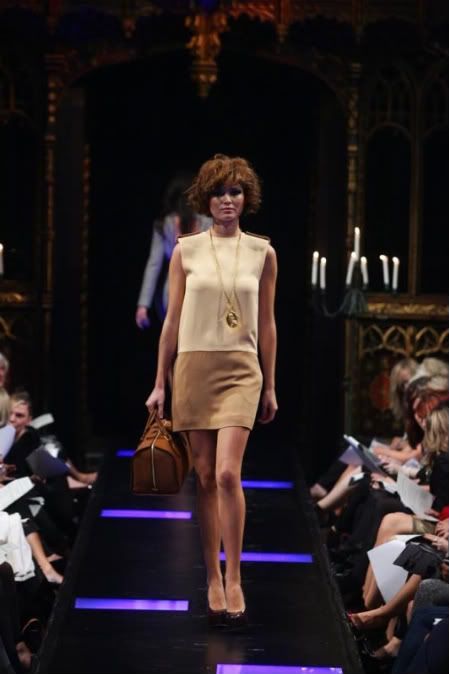 Briefly mentioning menswear "Baby it's cold outside" was a big disappointment…It could possibly work in a skiing resort, and if your boyfriend is a real adventurer when it comes to fashion but being completely honest, I cant see anyone pulling it off in Manchester (unfortunately, David Beckam left the city few years ago). And what was going on with that entire make up – surely the less is more rule has been forgotten. Not a great look.
Digital love
was impressive – catwalk was surrounded by statement pieces with digitally manipulated prints and pixilated sequin dresses, intense colors and precise design details. Every single outfit reflected the trend perfectly, while Versace pleat digital dress accessorized with Camilla Skovgaard platform stiletto
and Mulberry bag were my favorites and made me want to run and buy it right there, right now. Amanda Wakeley embellished top was another piece to be remembered and justified its high end price.
Asymmetry
is so definitely not this season so I will skip this part of the show as there is not much to talk about. Yet what caught my eyes was Nicholas Kirkwood turquoise lace pumps – absolutely loved them! As Kirkwood atomically becomes the new Mr. Jimmy Choo, this designer's shoes are a must have !
Pucci double layer dress = yes yes if you have a red carpet to attend, attention grabbing. And Lanvin drape metalic dress. Both created the WOW factor I was waiting throughout the event
.
What I missed is the more autumn/winter look- I expected more coats, more faux fur, sheepskin jackets, ankle boots and camel colors yet most of what was featured was glitz and glamour. Yes, we have already seen fall/winter trends before - on the major catwalks during fashion weeks, in the magazines and now all round the stores; yes, we might be a bit bored with the aviator trend already, however, I was looking forward to being showed how to dress myself for the next couple of months, and Harvey Nichols should have pushed winter items sales rather than focusing on glam pieces. I know, Christmas comes early, but I will only need couple of dresses for that festive time whereas I will have to think for the whole 3 months what coat, scarf and hats to match.
Overall, was I amazed, impressed, inspired? A bit, yet not charmed…What hit me is that British high street is so strong and versatile that designers really has to raise up their game to justify the prices, the material quality and the attention to details to make me pay that high-end price or become more drastic and need to look to the likes of Tom Ford, who has withheld all photos of his collection until January to reduce the risk of high street copycats. I need justification, I need a proof that my Balmain jacket is ten times better than the one at Whistles. Paying for the brand name is no fashion, not anymore.
High street has a lot on offer and it just proves you do not have to have a lot of money to look good (I am not a fattist, but love if you are size 16, buy a holiday to NY rather than a dress for £2000, it just doesnt make an impact and so honestly, is a waste of money! I am sure you could do better spending £ 200 in your local Topshop). You just have to have a sense of style and do not blindly follow the trends, wear what works for you and your shape, what makes you feel comfortable. Its autumn winter, so think practicality rather than impression, versatility and comfort instead of wow factor.
Fashionably yours,
Bembi